IKOP Sdn Bhd (formerly known as lIUM Pharmacy Sdn Bhd) is a Malaysian company based in Kuantan that aspires to be a top player in the pharmaceutical industry while consistently complying with the ever-changing quality aspects in pharmaceuticals and dynamic shari'ah requirements.
As one of the subsidiaries of lIUM Holdings, we are committed in growing our business to cater needs by providing the best products and services to our customers.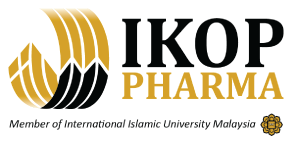 We are prepared to prosper in pharmaceutical business by equipping ourselves with relevant equipments and analytical instruments used extensively in our core activities. Besides the usual business nature of a pharmaceutical manufacturer, IKOP also offers industrial training to students, fresh graduates and employees for hands-on pharmaceutical manufacturing experience as our commitment to nation-building, particularly in providing skilled workforce for the country. In addition, we also provide contract services in research, manufacturing and testing for entrepreneurs and corporations alike.
Producing halal pharmaceuticals is our top priority. This is shown by our commitment in Malaysian halal pharmaceuticals standard, which is a valueadded quality system on top of the conventional quality-safety-efficacy triads practised in GMP-certified manufacturers from PIC/S member countries. With JAKIM's globally-recognized halal certification, we are ready to tackle the huge halal market throughout the world.
As of 2020, IKOP has been supplying medications to Malaysian government healthcare sector for three years through Approved Products Purchase List by Ministry of Health Malaysia. With the know-how of supplying mass orders to public hospitals and the latest formation of IIUM Holdings Healthcare Division, this move is expected to give more opportunities for IKOP Sdn Bhd in private healthcare sector.
IIUM Pharmacy Sdn. Bhd. is established.
Pilot plant completed alongside the building for Kulliyyah (Faculty) of Pharmacy, IIUM Kuantan.
Obtained pre-licensing GMP certification.
Company registered name changed to IKOP Sdn. Bhd.
First product registered and commercial production begins.
First pharmaceutical product registered and full GMP certification obtained.
Obtained manufacturing rights for Approved Products Purchase List (APPL) by Ministry of Health Malaysia.
Formed as part of IIUM Holdings Healthcare Division, together with IIUM Medical Specialist Centre.
Corporate identity is rebranded as IKOP Pharma.